Readerware Newsletter - August 2018
Welcome to the Readerware® Newsletter
Readerware 4 is now in beta
Readerware 4 beta 2 is now available.

What's new in 4?, an in-depth look at some new features found in Readerware 4, upgrade pricing and more.

Firstly thank you all for your feedback on the first Readerware 4 beta release. We appreciate your feedback and the problem reports.

Readerware 4 beta 2 is now available. This fixes several problems you reported in Readerware 4 beta 1. Readerware 4 Beta 1 will expire shortly so if participating in the Readerware beta program, you should upgrade now to Readerware 4 Beta 2.

A full list of the changes included in Readerware 4 Beta 2 is available in the release notes. You can also access the release notes from Readerware itself, select the Help->Release notes menu item.



Installing Readerware 4 Beta 2
If you are upgrading from Readerware 4 Beta 1 to Readerware 4 Beta 2, you just need to install the new version. There are no additional steps you need to take.

If this is the first Readerware 4 beta release you are installing, you do need to convert your existing Readerware 3 databases.

Your existing databases need to be converted to the new Readerware 4 format. This will happen automatically when you start the program or open a Readerware 3 database. Readerware will recognize that the database is in Readerware 3 format and offer to convert it. The conversion is a copy process, Readerware will backup your Readerware 3 database and restore it to Readerware 4 format. Your existing Readerware 3 database is not touched. You can also create a new empty database for testing if you prefer.

Readerware 4 will be installed in a separate folder so it can exist on the same system as Readerware 3. Because both the program and databases are separate you can continue to run Readerware 3 alongside Readerware 4.

Readerware 4 can restore a Readerware 3 backup file to create a new Readerware 4 database. So if you would like to test Readerware 4 on a different machine, install it on the new machine and then restore your latest Readerware 3 backup file. You will have Readerware 4 and all your data on the new machine.

There is a new e-mail address for beta support, e-mail beta@readerware.com if you need any assistance with the Readerware 4 beta or have any feedback.

As Readerware Mobile is installed from the appropriate app store, there is no beta version of the Readerware Mobile programs. However you can use Readerware Mobile 3 with Readerware 4.

There are installers available for all platforms, Windows, macOS and Linux.

There is a knowledge base article with help on upgrading to Readerware 4.

Before you install the Readerware 4 beta, there is one important thing to understand. As part of the conversion from Readerware 3 to Readerware 4 we copy your existing Readerware 3 database and convert it to the new Readerware 4 format. If beta testing reveals that we need to make further changes to the database format, we will not be providing a database conversion for the beta database. Instead you will need to go back to your Readerware 3 database and convert it again. Any changes you made to your Readerware 4 database during the beta will be lost.
Upgrading to Readerware 4
Firstly, there is no need to upgrade now in order to run the Readerware 4 beta. It will run in evaluation mode for the duration of the beta period.

The upgrade to Readerware 4 will be free for all users who purchased Readerware 3 or upgraded to Readerware 3 on or after January 1st 2017. This is a lot longer than our official upgrade grace period and is for Readerware 4 only. If you are eligible for the free upgrade send your upgrade request to upgrades@readerware.com Please include sufficient information so that we can locate your original order and send you new registration codes.

If you purchased Readerware 3 before January 1st 2017, upgrade options and pricing follow.
Basic Pricing Information
Upgrade
Price
Readerware 4 Single Product Upgrade.
Upgrade your current single product Readerware 3 license to the Readerware 4 equivalent.
$24.95
Readerware 4 Bundle Upgrade.
Upgrade your current Readerware 3 bundle license to the Readerware 4 equivalent.
$44.95
Readerware 4 Single Product to Bundle Upgrade.
Upgrade your current single product Readerware 3 license to the equivalent Readerware 4 bundle.
$59.95
All prices are in US dollars. These are download prices, add $9.95 for CD delivery.

We upgrade you at your current level. This means for example that if you currently have Readerware 3 Mobile Edition, we will upgrade you to Readerware 4 Mobile Edition automatically.



Special beta upgrade pricing
During the beta period we are offering a 20% discount on any upgrade order. Just enter coupon code Beta20 at checkout and your discount will be applied to your order.

The coupon code will expire the day Readerware 4 is officially released so make sure you order soon to get your discount.

You will receive your new Readerware 4 registration code right away. If you order a CD, that will be shipped as soon as the official release is available.
What's New in Readerware 4?
Here are the highlights for Readerware 4. Later in this newsletter we take an in-depth look at two of the new features, copy/paste and the new Readerware Loan Client. We will continue this in following newsletters, taking a look at one or more of the new features in detail in each issue.
New advanced search capabilities. Search on multiple fields and conditions. You can perform negative searches, search for date ranges, empty fields etc.

You can copy/paste complete items in the same database and between databases. You can now merge multiple databases using copy/paste.

Standard columns can now be renamed. Each database can have customized column names.

You can now include up to eight images for each item. Four thumbnail and four large images.

A Readerware database can now include a description to help you keep track of multiple databases.

Improved support for accented characters when searching.

Readerware 4 (Books) now handles a series number with a decimal place, i.e. 3.1

Readerware 4 (Music) now includes support for multiple artists.

Readerware 4 (Music) can auto-catalog from Discogs.

The Readerware Loan Client now handles all media types. The loan client automatically connects to all databases provided by the server and lets you checkout any item from the one program.

Numerous other enhancements and updates
Using copy/paste to copy entire items
Next up on our look at the changes coming in Readerware 4, is the new copy/paste facility. You can copy/paste entire books, albums or videos into the same database or another database. If you copy/paste an album you will copy the entire album, the basic album information, all discs and tracks, all images etc., the complete album is copied.

A common question from Readerware users is how do I merge Readerware databases? The answer is copy/paste.

In this example we use Readerware 4 Music to copy a range of albums, but all products work the same way. So you can apply this example to books and videos too. You start by selecting the items you want to copy. It is best to use the table view for this.

Use the normal method of selecting one or more items. You can select rows by clicking on the cursor icon at the beginning of a row. To select your first item, just click on the cursor icon. To select another item, use the standard list selection keys for your operating system to select other items or a range of items. For example on Windows hold down the Ctrl key on your keyboard and select the next item. On a Mac hold down the Command key and click on the next item. To select a range of items, hold down the Shift key and click on an item, all items between the new and previous selections are now selected.

Once you have selected the items, you should copy them to the clipboard. Select the Edit->Copy Albums menu item.

In the screenshot below we simply selected the Edit->Select All menu item to select all the albums in the database. Now we will copy them to the clipboard.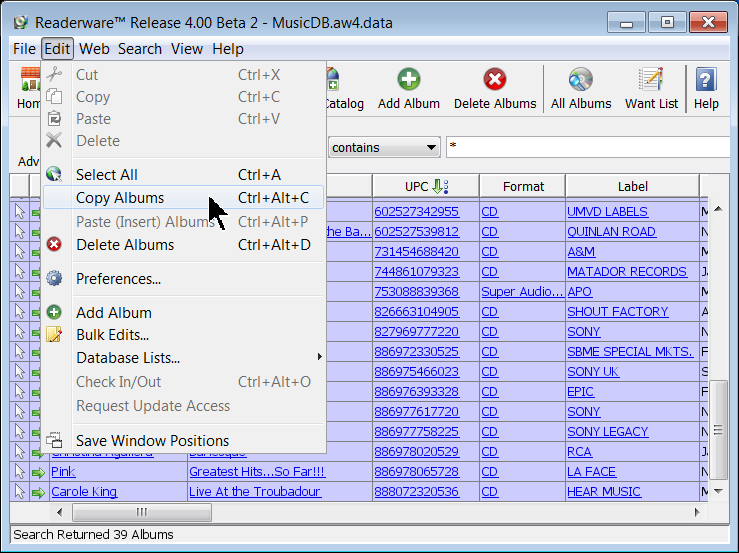 Now you are ready to paste the copied albums. You can paste them into the current database or another database. If you want to copy these albums to another database, open it now. The easiest way is to select the database is from the File->Open recent menu item. You can also select the File->Open database menu item or the File->New database menu item if you want to paste the albums into a new database.

Select the Paste (Insert) Albums menu item to paste the copied albums from the clipboard into the current database.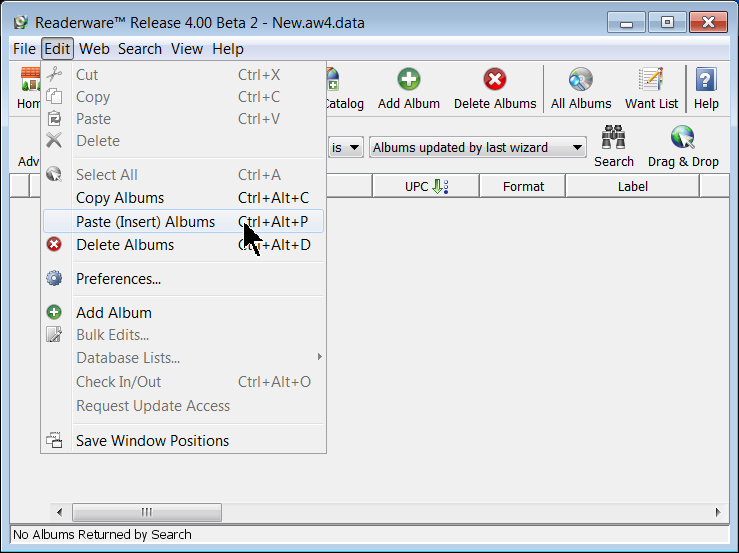 Here we are pasting the albums into a new empty database. The copied albums are inserted to the current database. A results dialog is displayed that includes the number of albums inserted and any errors that occurred.

The dialog includes the number of albums copied and the number of albums added to the database. Normally these two counts will be the same. If any errors occurred then the number of albums added will be less than the input count. The errors field will indicate the number of errors. If there are errors, the Find Next Error button will be enabled, click on it to page through the errors.

Click on the Log tab to see the full log of the paste operation.

Click on the Close button, the dialog will close and all the new albums added to your database are displayed. This gives you the chance to browse the new albums and review them.

Earlier we mentioned that the results dialog will tell you if any errors occurred. What could go wrong? As you are probably aware there is a database option to control whether or not duplicate UPCs are allowed in a music database. The default is to not allow duplicates. If you are pasting into an existing database you should check this option. If you are merging databases you may not want duplicate UPCs pasted, you only want albums that are not already in the current database. In that case make sure the option to allow duplicate UPCs is off. If you want all albums pasted regardless of whether or not the UPC is in the database, make sure the allow duplicates option is on.

How many albums can you copy in a single operation? As we use the system clipboard that will depend on your available system resources. It is possible that if you copy a large number of albums your system will slow down. In our testing we had no problem copy/pasting over 2,000 albums into another database.

The clipboard data will be deleted when you close Readerware. So if you are copy/pasting between databases, it is important that you open the database in the current Readerware session. If you close Readerware before switching you will lose the clipboard data.

Hopefully this has given you a good introduction to the new copy/paste feature available in Readerware 4. It makes it easier to copy books, music and videos between database, merge databases etc.



The Readerware Loan Client
When we first introduced the Readerware Loan Client it supported books only. Ever since then you have been asking for music and video support too.

Readerware 4 adds music and video support to the Readerware Loan Client, not separate programs, but one single program that can now handle all media types.

The Readerware Loan Client has always been part of Readerware Client/Server Edition, with the new support for books, music and videos, you must run Readerware in client/server mode. This means that when you select the File->Open database menu item in the loan client, the only option is to connect to a Readerware server.

When you use RWServer Config to configure the Readerware server you can select the databases you want to use. You can select one database of each type, books, music and videos. If you are not using all databases, just select the databases you are using. The Readerware Loan Client will automatically connect to all selected databases.

There is one additional selection you need to make when configuring the Readerware 4 server. As the loan client now accesses multiple databases, you must tell the server which database contains the borrowers. Normally you would use the main database, i.e. if you are primarily loaning out videos, you would select the video database. Readerware 3 Loan Client users will select the book database as that was the only database supported by the Readerware 3 Loan Client, so that is where your borrowers were stored. The Readerware Client/Server documentation was completely rewritten for Readerware 4 and contains separate sections for installing Readerware Client/Server Edition on each platform. You can access the new documentation from within the product itself or from the website here.

The first change you will notice is to the lower section of the window where the items you check in and out are displayed. The column names have changed. They used to be book specific, Author, Title, Book ID, ISBN etc. Now the column names are more generic, Primary Contributor, Title, Product ID, Product Key etc.

The basic functionality of the program has not changed. To check items out, you first select a borrower. Then you scan the items you want to checkout and they are displayed in the lower section of the window. Click on the Loan button to check them out.

As you can see from the above image we are checking out a book and an LP. If you look closely, you might see a potential problem. Each item is allocated a unique ID as it is added to the database, and you typically use this ID to check items out. The issue is that the ID is only unique to that database. As the books and music databases are separate databases a book and an album could have the same ID. That is the case here both items have an ID of 1. So how do you checkout items by scanning the item ID barcode label?

Readerware 4 has changed the way it prints ID labels. It now includes a product type in the ID. So when printing the book ID label, the ID will be RW1 and the album ID will be AW1. As you scan the ID barcodes, Readerware now knows what database to search.

But what about all the Book ID barcode labels that you have already printed and stuck on your books. Do you have to reprint all the labels? The good news is that you don't. We mentioned earlier that when configuring the Readerware server you have to identify the borrower database, i.e. which database the borrower records are stored in. If you were using the Readerware 3 Loan Client, that would be the book database. When you scan an ID barcode, if it has no product identifier, Readerware searches the database set as the borrower database. So all your existing Book ID barcode labels will still work.

If you used the Readerware 3 Loan Client, the new Readerware 4 version will be familiar, but now it can handle all media types.



Discogs Support
Readerware is now a Discogs developer and we have added Discogs auto-catalog support to Readerware 4.

Discogs has an unrivaled database, it includes CDs, vinyl, cassettes etc.

We have been working with users to tweak the Discogs extraction during Readerware 4 beta 1. The addition of Discogs support to Readerware 4 Music is a real plus for music collectors everywhere.

You can also buy and sell on the Discogs site, if you are a serious collector be sure to checkout their site. You can sign up for a free account and pick up those albums your collection is missing. They also have forums where you can join others to talk about your favorite music.
What's Next?
If you would like to review the documentation for Readerware 4 before downloading the beta, it is available on the website.

If you would like to participate in the Readerware 4 beta program, you can download the latest beta release. This beta release will expire on September 15th 2018. We will either release Readerware 4 before then or have a new beta version available. So there will be no interruption.

Please let us know if you find any problems with the beta release. We also want your feedback on the new features in Readerware 4. Please e-mail beta@readerware.com

How long the beta program will last will depend on your feedback. We will be back with another newsletter and more on the new features in Readerware 4 shortly. So watch your mailbox.
Subscription information
You are receiving this newsletter because you joined the Readerware Newsletter mailing list.

To unsubscribe from this newsletter or change your subscription click here.

You can also unsubscribe from this newsletter by replying to this e-mail with REMOVE in the subject line.



This message was sent by Readerware Corporation.
Readerware Corporation
PO Box 1059
Clearlake Oaks CA 95423
Top of Page
Copyright © 2018 Readerware Corporation
Readerware is a registered trademark of The Readerware Corporation.